Course details
Fulfilled seasonally fresh fish ♪ [Fish Tiger - UOTORA - Course] \ With optional drinks you can choose slowly 2 to 3 hours / 4000 yen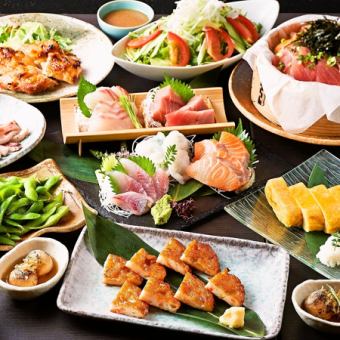 By using a coupon4000 yen
(tax included)
All-you-can-drink available

All you can drink ___ ☆ 2 hours, 2.5 hours, 3 hours __//
Reservation deadline

Until 17 o'clock on the desired shopping day
Available days for reservation

Monday - Saturday, Sunday and public holidays - Holidays
Recommended course of the chef's chef who feels the season with seasonal fresh fish coloring the party.The contents of the dish will be different depending on the arrival situation and you can enjoy different contents each time.If you would like a golden soup shabu-shabu please ask at the time of reservation.Ideal for welcome reception / entertainment / various banquets.Especially it is a course that is preferred for banquets with first-time people!
Course menu
___ ☆ With 2 hours, 2.5 hours, 3 hours as you can choose ♪ / /
* Please select the time of all you can drink at the time of reservation and answer at the [question from store] field.
※ Friday · Holiday on the day before the holiday only 2 hour system ※ If there is no designation at the time of reservation it will be 2 hour system.
※ After December 10th will be announced as +500 yen as year-end fee
※ After 12th December you will be informed on the basic 2-hour system.
◆ Plump Boiled Edamame
◆ Today's cold small bowl
【Handicraft small bowl of chef with seasonal ingredients】
◆ Tsukiji direct delivery Today's make 5 assorted plants
[We will explain in the seats because it depends on the season]
◆ 6 kinds of colored green salad
【Home chef's minced glet of chef】
◆ 16 heavy stream - thick grilled egg -
【Small and large handmade fluffy egg yaki】
◆ Grilled Sled Snacks
[Use only soft parts of squid]
◆ Delicious Satsuma fried fried
【Delicious with mixed root vegetables】
◆ Smoked Pork Teriyaki Lettuce Winding
【Fluent special homemade smoked pigs】
◆ Seasonal fish ~ fragrance rice ~
【Mixed rice mixed with seasons delighted at the party 's banquet.Enjoy different seasons on a daily basis】
◆ Special Purine - with seasonal sauce ~
【Dessert for rich taste refreshment】
¯ ¯ ¯ ¯ ¯ ¯ ¯ ¯ ¯
~ Let's bloom in banquets with loved ones ~
\ Tigeru Tatsu supports the surprising masterpiece /
· Bringing in free of charge
· Supplies for free purchase "Cost" provided
Banquet with important people! It is unsatisfactory on regular course!
I will purchase [special gift] for such secretary free of charge
For example ... to drink at a shop a high sake, a cuisine (as much as possible), a special bouquet, a cake etc ...
We will purchase whatever you get in our shop!
Tiger does not receive fees.We will offer by purchase price!
___________________________
All-you-can-drink menu
·draft beer
· Asahi Super Dry / Shandigerf / Red Eye / Grapefruit Beer
·Highball
· High Ball / Cola High Ball / Tonic Hi Ball / Ginger High Ball / Yuzu Mitsu High Ball / Plum wine High Ball
· Shochu High / Sour
· Oryong High / Green Tea High / Jasmine Tea High / Tea High / Lemon Sour / Lime Sour / Sequer Sour Sour / Calpis Sour / Gianton Sour / Yuzu Honey Sour / Summer Mandarin Sour / Hakuto Opens Sour / Tsugaru Ringo Sour
· Cocktail 1
· Gin Tonic / Jim Buck / Jin Lime / Vodka Tonic / Moscow Correr / Screwdriver / Bloody Mary / Kalua Milk / Kalua Cork / Keel / Kitty
· Cocktail 2
· Cassis soda / cassis orange / cassis oolong / cassis jasmine / cassis grapefruit / cassis darjeeling / peach soda / peach grapefruit / fuzzy navel / peach darjeeling
· Cocktail 3
· Lychee Orange / Lychee Sauder / Lychee Grapefruit / Lychee Jasmine / Lychee Darjeeling / Campari Soda / Campari Orange / Campari Grapefruit / Spumoni
· Wine / fruit wine
· Glass wine (red · white) / plain plum wine · fluffy wine sake
· Sake / Shochu
· Special sake (cold sake · sake) Ichigo Tokutoshi, Niii Tokutoshi / Kanoka (potato / wheat)
·Soft drink
· Cola / Gingeraire / Orange Juice / Grapefruit / Oolong Tea
· + 500 yen 【All you can drink premium】
· The menu below is available for +500 yen (excluding tax) on the menu above. (When tax included)
·Fruit wine
· Dense plum wine / Kimonobo honey plum wine / Brown sugar rich plum wine / Yuzu plum wine
· Shochu
· 【Potato】 Satsuma Shiji, Black Kirishima, First Bill / 【Rice】 Yokaichi rice / 【Wheat】 中 々 / 【Awamori】 Shima / / Shiso
·Sake
· «Saitama prefecture» Rice all over, «Kyoto» Shochiku Meishi, «Niigata prefecture» 越 影 虎 龍, «Fukui ken» black dragon gem
· + 500 yen 【Ultra premium Japanese drinking drinks!
· The above menu is further + 500 yen (excluding tax) at the following 【Ultra Premium Nippon Drinking Drink】 ♪】 When using the course (tax included)
· Ultra Premium Sake
· Festival polishing 50 net rice big daiginjo / Kudokimono Bakuren ginjyo super dry / Hakkaisan special book brewing / Echigo tiger tiger super dry book brewing / Toyo Bisho Ginjin Ginjo 50 / Brahma - Gloss - Jun Ritsu Daiginjo
2018/12/15 update